(Another) Cover Up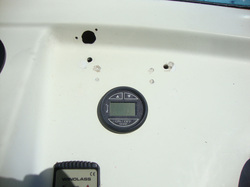 This is part of the console of the upper helm station of Morning Star, my 26' Tollycraft. Shown here is the depth gauge which I installed some time ago and holes from installs done by previous owners. I assumed the depth gauge was water tight, it is not. Returning recently in the rain the gauge began to malfunction, but luckily returned to normal when it dried out. Time for a cover up, and while I am at it why not cover up the ugly holes in the vicinity.

What I came up with was a plate which would go under the depth sounder and cover up the screw holes. A water proof cover would then go over the sounder and be glued to the plate. To cover the hole in the vertical step in the dash I would mount a box on the stepped up part of the dash, and the front of the box would come down below the bottom of the box to cover up the hole in the vertical step. The front of the box would come down to, but not be joined to, the plate under the sounder.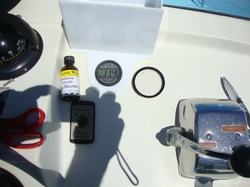 Front of the box has now been glued on with methylene chloride, only the water proof cover for the gauge needs to be installed. Water proof cover is a ring of black plexi, with a clear plexi cover, that will be glued to the base under the depth sounder.