Propane Sniffer

The old propane sensor was dead and needed to be replaced. My plan was to replace it with the same brand in the same location and avoid any rewiring. The old unit was quite flat and screwed directly to the valance. The new unit was bigger, and made to be mounted in a cut hole. Seems not all new models are advances. The sensor was kept in the same location by enclosing it in a black plexiglass box and mounting the box to the valance. Because of the increased depth of the unit the box had to hang below the valence. It works, is convenient to the stove, and avoided some rewiring, but not as pretty as the old model.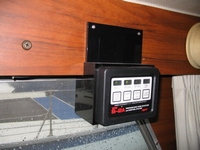 The plexi box is notched to keep it as high as possible. The extension above covers the unfaded mark of the old unit.
Radio Holder
The kids who inherited this boat just cut the wires and took the old radio out. Again it was a case of putting a new radio back in the location of the old one as that is where the speaker and power wires led. I had purchased a car stereo-CD player and the bracket for mounting was made for a car. A holding shelf was fashioned out of black ABS, sized to hold the radio and with side wings that allowed it to be screwed to the underside of the wooden shelf above. The instruction book for the radio was bigger than that for the GPS and the VHF and the unruly mass of unused wires coming from the back of unit made for an ugly mess. Although you cannot see it in the picture, the mess of wires was covered by a piece 1/16 ABS, loosely screwed in at the corners.