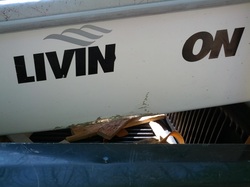 Well as we all found out last week, spring has sprung in Great Vancouver and the Fraser Valley (I can practically see the grass growing in Fort Langley where I live).

So with the return of the good weather we returned to the beaches of Bowen Island. We go there often enough that to facilitate our crabbing adventures we keep a little dingy on the beach. Its an old Livingston that seems to have had the vinyl removed in spots hence its name "LIVIN ON".

Sadly, this winter it did not live on! The particular beach it is on (and most of the northwestern side of Bowen) is known for its winter storms. Its idyllic in summer but rather nasty in winter storm season.

Ideally, we'd have brought the dingy up the beach or to the cabin for the winter but well with kids and school it was quickly forgotten until we received an ominous email from one of the powers that be up there that 'boats were at risk' due to waves and high tides. We knew then that Livin' On would have a rough time of it and so it did!

In the photo you can see the main damage to the bottom of one side where the fiberglass has split. Its a little hard to see but the light that you see is coming through the boat and not under. So that's up on the project list! I spoke with a fellow out here in Abbotsford, 'Dan the boat Man' and so I have good idea of what to do (its pretty similar to what I suggest to people in store but always good to hear it from someone who does it hands on too).

Basically I'll grind out the inside and apply overlapping patches, going bigger as I go. Then I'll level the outside with a short strand filler and gelcoat over that. It will look a little rough on the inside (maybe) but its only a beach dingy and after seeing the quick and dirty repair Western Canoe and Kayak did for on my beater canoe last year I think it will be fine.

Remember if you want to tackle these projects we have most everything you need (not sandpaper though) and if you don't we do recommend Dan the Boat Man and Western Canoe and Kayak depending on your project.