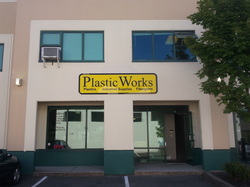 At Plasticworks, we do a lot of sub contracting to the sign industry. We CNC cut, polish, trim and do lots of jobs for sign contractors. Generally we do not do a sign from start to finish or for direct customers. The rule of thumb is if you know what you need and have all the artwork done, we can help.

The exception is our own signs. We generally do that so we can 1) get some experience and see jobs through our customers eyes 2) we're kind of do it yourselfer's 3) when you deal with dozens of sign companies who would you chose?

So this is our Abbotsford sign. Its 1/4" yellow acrylic with pockets routed into the face that matched up to black trim and letters. The black letters are then slightly raised. The whole thing was then mounted with screws and some standoffs on the wall (it is 2 pieces).

What can we do for you?