Based on last summers cruising, which I did alone, I felt an autopilot would be a handy addition to Morning Star.
I will spare you all the planning - where to locate the flux gate compass, how to tie the rudder sensor to the rudder arm, and all the work of stringing wires through already overcrowded conduit, and move on to the parts where I made use of PlasticWorks.

The wire sizes, to avoid voltage drop, were very large, 8 ga. These wires were too large to attach to the course computer and I had to install a short length of 10 ga between the course computer and the 8 ga. These are still very stiff wires that could not be tucked out of sight without pulling them loose from the computer. It looked terrible…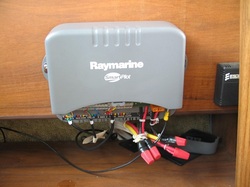 The plastic solution was to have PlasticWorks make a simple bent cover of black .060 ABS that projected below the computer and covered the wires. The cover extends a long ways under the mounting shelf so anything slid underneath will not pull the wires from the computer.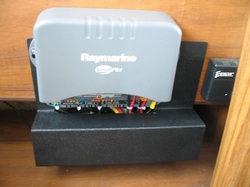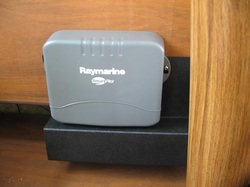 I wanted to mount the autopilot controller to the ceiling of the cabin. This would make it visible from the helm yet far enough away from the radio and compass to not effect them. A simple Plexiglas bracket was the answer. The installation instructions had a mounting template, fully dimensioned, so the bracket was CNC cut for the holes needed and then bent to the viewing angle I needed.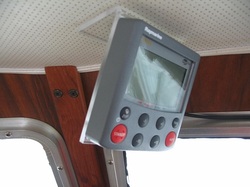 I also had to string the wire from the controller to the course computer. This is the wire running to the right of the controller, along the aluminum window frame, with no visible means of support. To keep the wire tight to the aluminum frame I used a dab of E6000 adhesive behind the wire and held it in place with masking tape until the glue set up. I was very pleased with how this worked out.