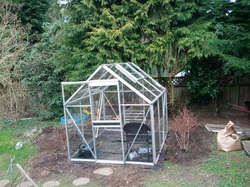 So in this project we got a used greenhouse from a neighbour and friend that had just moved and did not need it.. It was old, slimy and with lots of broken glass....

But of course the glass was not an issue as we used new acrylic (plexiglas) panels where needed. In the end it took some elbow grease and over a sheet of new material but we have a lovely little greenhouse!

Now it just needs a little work on the door rail, but if you see the shower post below you already know how I'll deal with that one.